Mr Floropoulos, a former director of collapsed Greek food importer and Melbourne Victory Football Club sponsor Oliana Foods, had resigned as a director of No Moo Pty Ltd in January 2019.
On the same day, his wife of 20 years, Niki, replaced him and took over as authorized signatory of the company's transaction account. Meanwhile, Niki's mother, Veloudo Dernikos, who according to an affidavit filed in court is "83 years old, does not speak or understand English, other than at a basic level, and suffers from dementia at an early stage", was also listed. as director of No Moo.
According to documents filed in a separate Federal Court case against Mr. Floropoulos and Mr. Podaridis, ASIC investigators in mid-June last year discovered that the alleged victims of a scam had filed less $1.46 million to the No Moo bank account.
ASIC's investigation began on March 16, days after The Australian Financial Review revealed how suspected criminals were exploiting vulnerabilities in Google Search and Australia's cryptocurrency infrastructure to lure retail investors via fake comparison websites and dupe them with the promise of high-yield funds badged by some of the most trusted brands in the world.
The complex scheme involved stolen identities, several UK scammers posing as real-world bankers and fraudulent prospectuses claiming to represent high-yield investment funds run by global managers such as Citibank, Nomura, HSBC, Pimco and IFM Investors.
It ripped millions of dollars from victims seeking better returns as interest rates crashed during the COVID-19 crisis.
Due to apparent links to a similar scam in the UK, the corporate regulator is now working in tandem with the British Financial Conduct Authority as it prosecutes suspected scammers.
After depositing $500,000 on their one-year fixed-rate bond, Mr. and Mrs. Foottit quickly discovered that "the website advertising the investment opportunity was not a legitimate JP Morgan website" and "the bond certificate allegedly signed by the managing director of JP Morgan…]was forged".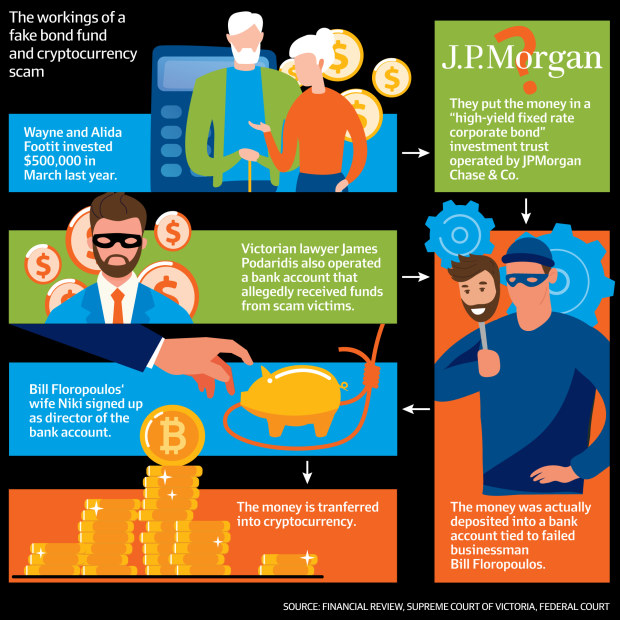 Mr and Mrs Foottit, through their lawyers Duxton Hill, sought freezing orders from the Supreme Court against No Moo in mid-2021 after obtaining transaction records showing the No Moo account was receiving their funds and quickly transferred them elsewhere.
According to records, No Moo also received money from an account linked to a company owned by Mr. Podaridis, called Pramana Capital Pty Ltd, which ASIC said received approximately $1.16 million from alleged bond scam victims for two weeks in early January, almost half of which were immediately transferred through the ProTrade crypto platform to an account in Belgium.
Shortly after the lawsuit was filed, Mr. Floropoulos, his wife and mother entered into a settlement agreement with Mr. and Mrs. Foottit to repay $500,000 in a series of payments.
However, the payments quickly dried up after the initial repayment of $25,000. After the Foottits pursued their case and after Mr Floropoulos and his family changed lawyers three times (and missed a number of deadlines to file submissions in court), a judgment was entered against the alleged fraudsters Wednesday, forcing them to pay the bill.
Since Mr and Mrs Floropoulos do not own property, this would mean that Mrs Floropoulos' mother's house will be sold to satisfy the debt from the settlement deed, sources said.
Documents filed in court also reveal a possible fallout between Mr. Floropoulos and Mr. Podaridis.
As part of her pleadings, Ms. Floropoulos sought (in affidavits which Justice McMillan later described as "repetitive, irrelevant or self-serving") to portray herself and her husband as victims of "undue influence from Mr. Podaridis, who she said had mighty power. motive to coerce her and her husband into signing the original settlement due to her alleged involvement in a global criminal syndicate.
Mrs Floropoulos has also separately maintained that her husband convinced her to take part in a scheme in which a Melbourne-based associate (whom the Financial analysis chose not to name) would pay them a commission if they transferred their "clients" funds into bitcoin.
Ms Floropoulos "considered it a good opportunity, even though she didn't understand bitcoin or cryptocurrency, but was aware that people were making huge profits from bitcoin."
police raid
That written agreement with the partner was seized by the Australian Federal Police when officers searched Mr Floropoulos in November last year, she said.
In her initial affidavit, Ms Floropoulos also maintained that she had been advised by her accountant to ensure that she complied with her responsibilities as manager of No Moo. But in her second affidavit she argued she had left 'all business' to her husband, including signing the settlement deed with Mr and Mrs Foottit.
Ms Floropoulos claimed that Mr Podaridis repeatedly urged her to sign the settlement and told her "not to worry because [the associate] paid the money".
Mrs Floropoulos claimed that she "was not informed by anyone and did not understand that by signing the deed in her mother's name, she risked charging her mother's home as security for the payment to be made to the plaintiffs", and maintains that if she had known "she would never have accepted this and that her mother had nothing to do with the case".
According to ASIC documents presented to Federal Court last year, the No Moo account transferred nearly $1 million to her husband's account over a period of less than two months in early 2021, the transfers being described either as a "loan" or as an "allowance". ".
However, the money was then transferred by Mr. Floropoulos to crypto exchanges, according to the documents. The victims deposited between $50,000 and $500,000 in the No Moo transaction account.
ASIC alleges that Mr Podaridis and Mr Floropoulos 'operated or were part of a criminal syndicate operating the Bond Scam, a sophisticated financial investment scam targeting Australian retail investors with false offering documents bonds by impersonating major financial service providers".
Although Mr. Floropoulos and Mr. Podaridis do not appear to have been arrested, they are subject to a ban on leaving Australia. ASIC said Mr Podaridis' ban was necessary because of his "alleged centrality" to the scam.
ASIC investigators met Mr and Mrs Foottit last week.